Hello stitchers! We finish our dress today! Who's ready?

A brief recap for the sew-along. In our first post we talked about our supplies. We prepared our bodice, including interfacing and darts, our button loop, and our pocket tabs.  Then, we focussed on that important neckline. Last entry, we installed our sleeves and side seams!
All that's left today, is to finish our hems, install our thread chains, and insert our sleeve lining!
So, hems first. For many dresses, it is advised you hang the garment and then hem it. That is not as necessary in this case – the garment hangs nearly straight-of-grain and I have made it from a stable fabric. Usually the "hang before hemming" treatment is done for skirts or garments cut on the bias, or with a grain that distorts easily, or a large-volume hem.
So below, you see my basted shell hem (on top) – and my lining hem. I have finished with a serge, to help me in folding my hem. This is one of the fastest ways to get a nice baby hem, and works for most fabrics even on curved hems:
You can certainly press, then fold, press and pin – and in most cases this will benefit your look greatly. Or you can be a lazy jerk and fold and stitch, then press. As you can see from the three pictures below, the results are pretty nice even when you're a cheater-pants:
Now – time to hem the shell!
Again, I have a serged raw finish at my hem, as you can see below. If you like, you can use hem tape, or bias binding to finish this edge (or stitching and pinking). The lining will be hanging and secured with thread tacks, which means it will be visible if someone wants to peek at it. In my case, I used a blind stitch. This is a fairly brilliant bit of stitching you can do by machine or by hand – the stability of the linen means the machine works just fine. And the baste stitches help keep things tidy during the stitching process.
Here is the blind hem, before I remove the basting stitches. This is a picture before I pressed out the fold. The hem stitches will be invisible once pressed:
Next, it's time to sew a thread chain to keep the hems more or less together, but still allow the lining's freedom of movement. A thread chain here is also sometimes called a swing tack or a French tack. I've seen dresses with just one thread chain; I elected to place them at both side seams.
The thread chain is very easy (especially for all you crocheters out there), and there are many tutorials so I won't reinvent the wheel (here's a good one). Remember to secure your first stitch with a nice invisible knot, before starting your chain. I used single strand Pearl cotton, used 25 loops, and then secured to to lining side seam.

 Now, it's time for our button! Usually I use four strands of waxed thread, but I had leftover Pearl cotton so I just used that. For both the button and the swing tacks, you can apply a tiny bit of fabric glue or Fray Check, to secure these handworked details: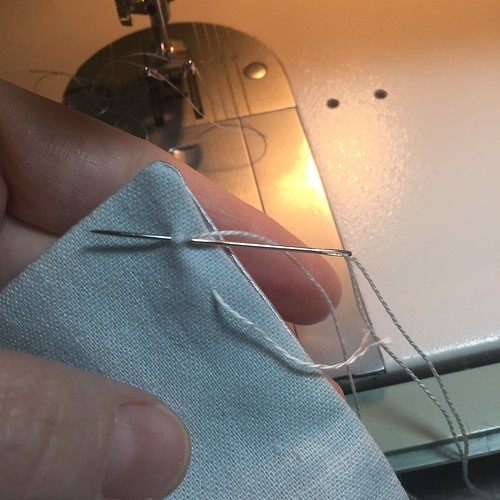 Our very last feature!
Remember, there are so many ways to install a lining. I am by no way saying this is the best or the only. What I like about having these free-hanging sleeves, is it allows me to to a gorgeous
Remember when we worked on our sleeves, and I mentioned installing a seam 1/8″ to 1/16″ inside the stitching line? We're going to use that now:


Turn the dress inside-out. Then push the lining up and pin right along that staystitch line, on the seams that join the lining and shell armscye. Take your time and carefully check you haven't twisted anything. Then pin as much as you like – every 1″ to 1/3″ is good – and stitch with a whip, slip, or ladder stitch! All three stitches are strong (I've listed them in order of most visible to least visible).
That's it! You did it!
Thank you for joining me in making this fabulous dress. If you're happening on this sew-along at a later date but still want some help, please email me and I will be happy to oblige!